5 Countries With Inspiring Renewable Energy Stories

As energy consumption rises and climate change awareness skyrockets, many nations are going through an energy transition powered by renewable energy.  Some countries have gone above and beyond in their pursuit of renewable energy, implementing innovative solutions to harness the power of sustainable resources to create a cleaner and greener future.
Through their commitment to sustainability and innovative approaches to energy production, these countries that use renewable energy demonstrate a pathway that can inform global energy transition journeys. Let's take a closer look at renewable energy initiatives by country in these trailblazing nations, and their inspiring energy transition stories. 
Morocco
Morocco has emerged as a leader in the development of renewable energy in recent years, with a particular focus on solar power. The country's efforts to harness its abundant solar resources have resulted in one of the world's most renowned renewable energy programs, the Moroccan Solar Plan. 
In 2009, Morocco set out to achieve 42% of installed power capacity to come from renewable energy by 2020. To realise this goal, Morocco developed its solar plan, which included the construction of several large-scale solar power plants aimed at reducing the country's dependence on imported fossil fuels. These power plants aimed to bring the total capacity to 2,000 megawatts (MW) for solar, 2,000 MW for wind, and 2,000 MW for hydro. 
One of the key projects under the Moroccan Solar Plan is the Noor Ouarzazate Solar Complex which encompasses 3,000 hectares of the desert with a total capacity of 580 MW, making it one of the largest solar power plants in the world. The complex is expected to provide power to over one million people, reduce Morocco's oil dependency by ~2.5 million tons per year, and decrease carbon emissions by 760,000 tons per year. 
While Morocco fell short of its 2020 target, the nation still successfully achieved 37% of renewable energy sources. Morocco is confident that by 2030, the nation will be able to increase its renewable energy capacity to hit 52% with 20% from solar power, 20% from wind, and 12% from hydro. 
Costa Rica 
Costa Rica is a shining example of a country that has successfully transitioned to renewable energy. With a population of more than five million people, the country has managed to generate almost 100% of its electricity from renewable resources. Costa Rica has been able to do this by harnessing its natural resources such as wind, solar, hydro, and geothermal energy with the country's geographical location playing a significant role in its success. The nation's numerous rivers and mountains are ideal for hydroelectric power generation, paving the way for a better-energised future. 
With a goal to become a carbon-neutral nation by 2050, Costa Rica launched their National Decarbonisation Plan which led to the implementation of various programmes and initiatives aimed at reducing the country's carbon footprint. For instance, one of its initiatives under this plan aims to decarbonise the transportation sector by promoting the use of electric vehicles and public transportation. 
Since the launch of this plan, Costa Rica has delivered a significant increase in renewable energy capacity, rising from 2,153 MW in 2012 to 3,189 MW in 2021.
Sweden
Sweden is widely known as a leader in renewable energy, having set ambitious targets for reducing carbon emissions and transitioning to clean energy sources. One of the most impressive renewable energy stories in Sweden is the development of its hydropower and biomass industries. According to data from the World Economic Forum, 54% of Sweden's power is generated from renewable resources thanks to its strategic geographical location that boasts a healthy water flow and ~60% of forest coverage. As such, Sweden aims to be one of the countries with the most renewable energy, boasting 100% of energy generation from renewable resources by 2040.
Sweden has also made remarkable progress in the field of electric vehicles (EVs). As of 2020, Sweden is among the top three countries leading the charge with plug-in EVs accounting for  ~33% of new passenger car sales across key European markets. This shows a positive stride in the nation's efforts to reduce transport emissions by 70% by 2030.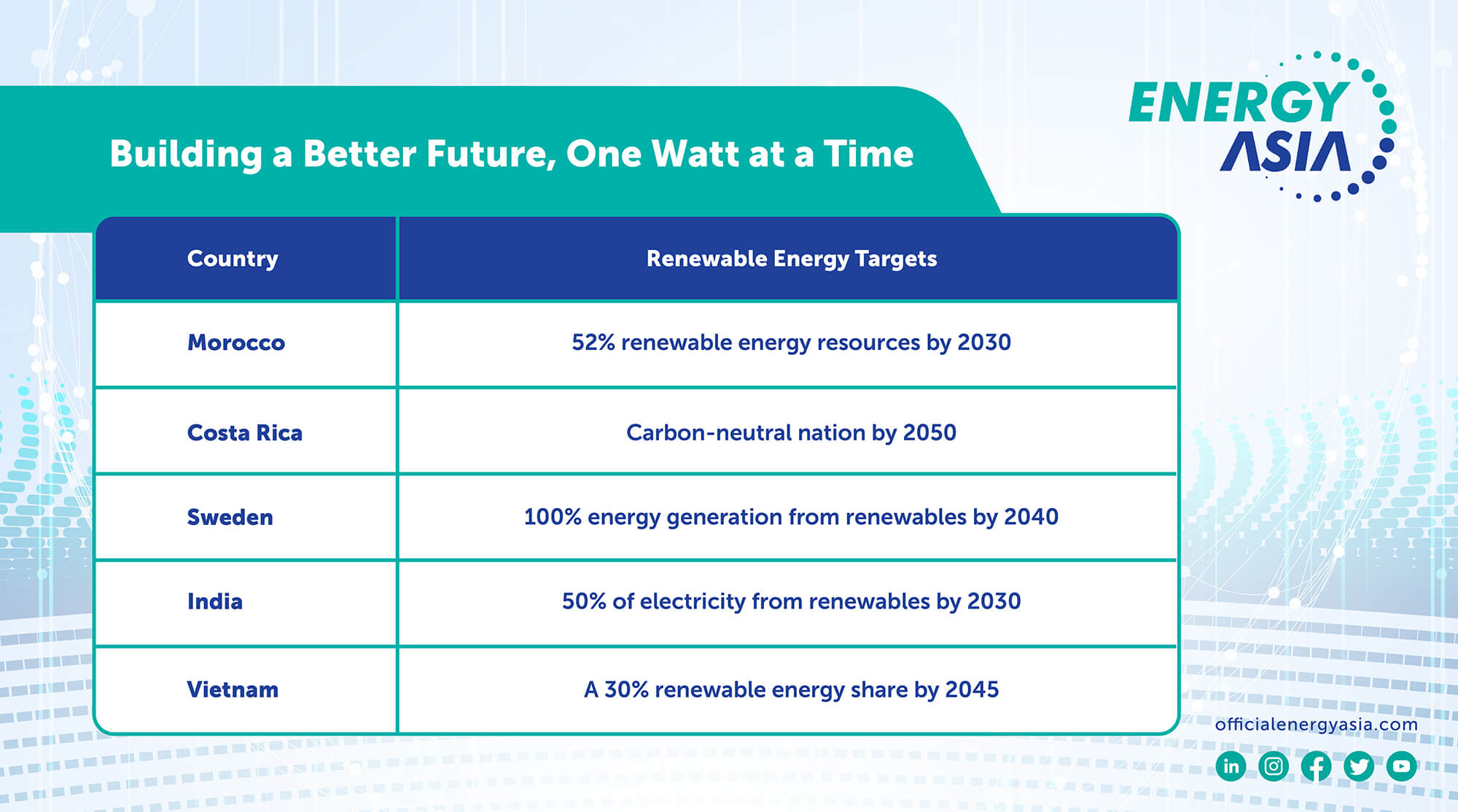 India 
India's renewable energy story is an inspiring one. Despite being a developing country with a growing demand for energy, India has managed to make significant strides in renewable energy with the goal of achieving 175 gigawatts (GW) of renewable energy capacity in the form of solar power, wind power, biomass power, and hydropower by the end of 2022. Even though India was unsuccessful in achieving this goal, the nation still managed to achieve 57% of its solar target and 67% of its wind target.
One of its more notable achievements is production of the world's cheapest solar power. Back in 2018, the costs of building large-scale solar infrastructure fell by 27%, empowering India to provide cheaper and more sustainable electricity to its residents.This played a crucial role in encouraging its citizens to adopt clean energy which supported India in its efforts to transition to cleaner energy sources. Today, that transition is well underway, having already met its target of 40% of power capacity from non-fossil fuels nine years ahead of the nation's initial target. 
Vietnam
Vietnam is a country that has been heavily reliant on coal as its main source of energy for decades. However, in recent years, the country has made great strides in transitioning towards renewable energy sources as part of its goal to achieve net-zero emissions by 2050. From wind and solar power to hydropower, Vietnam has been embracing a range of sustainable energy options. This is reflected in the nation's energy mix where renewable resources make up ~30% of the nation's total energy sources. Vietnam has also been successful in decreasing its share of coal-fired capacity by 9 percentage points, from 52% to 43%.
Having been blessed with abundant sunshine, the Vietnamese government has encouraged the development of solar energy as a way to meet the country's growing demand for electricity. Today, Vietnam holds the record for the largest solar project in Southeast Asia with its 600 MW Dau Tieng Solar Power Complex, located in the Tay Ninh Province.  Vietnam is now a regional leader in renewable energy, with over 45,000 MW installed capacity as of 2023, more than any other country in the Southeast Asian region.
Invest, innovate, and be inspired, at Energy Asia, 26-28 June