Understanding Energy Asia with Gentari on BFM 89.9
Energy Asia is a platform designed to bring together stakeholders from across the energy ecosystem, with a diverse range of industry players and participants. That includes innovation-driven businesses like Gentari—the Malaysian clean energy company.
Shah Yang Razalli, Deputy Chief Executive Officer and Chief Green Mobility Officer, Gentari, recently joined BFM: The Business Station for a fascinating podcast, offering insight on what the future holds, and how Energy Asia can help inspire an energy transition for the region.
"Energy Asia is an important event to advance the region's net-zero ambitions by bringing together energy professionals, industry captains, and policy makers to drive a just and responsible energy transition," said Shah Yang Razalli, speaking to Juliette Jacobs on BFM 89.9.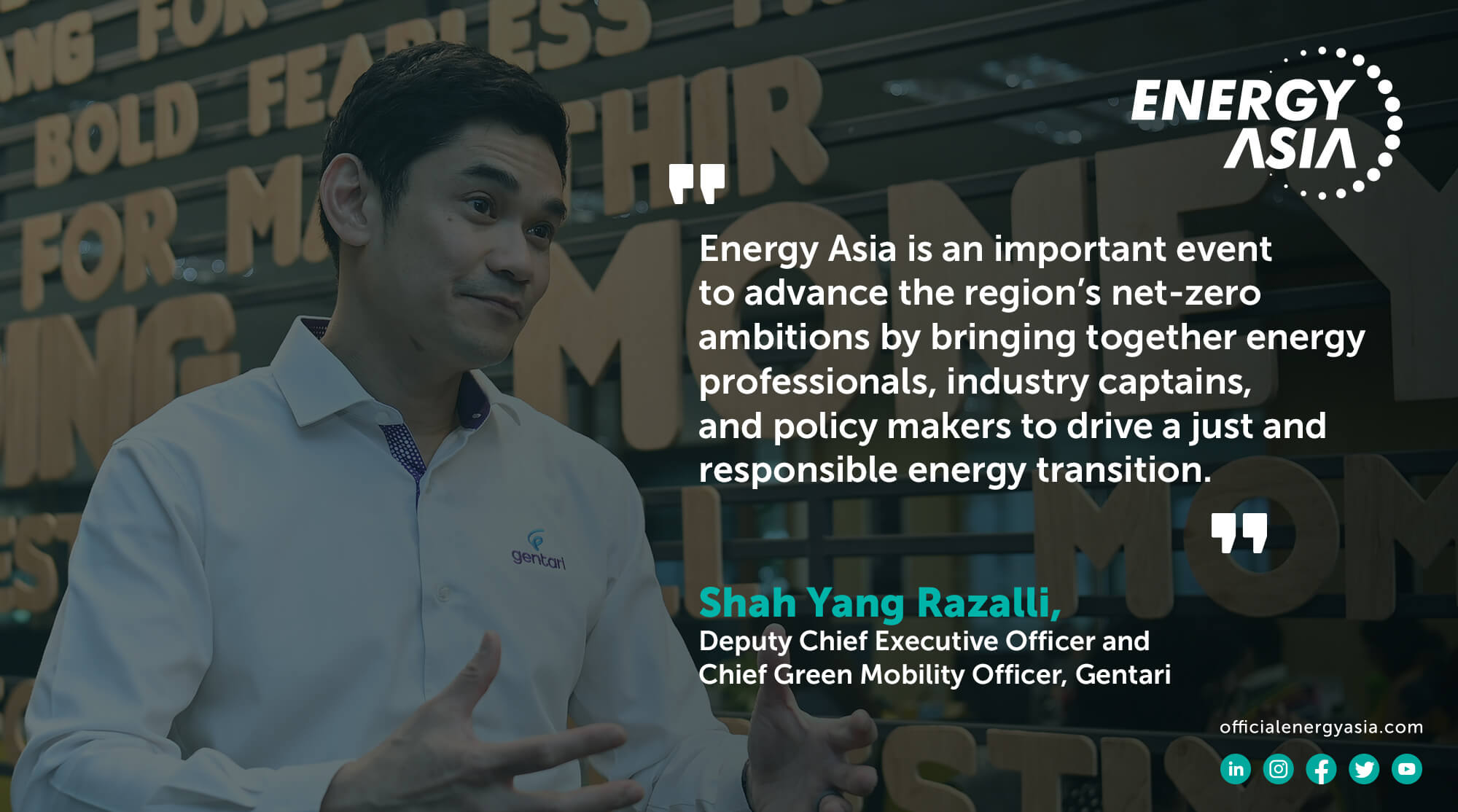 Gentari focuses on three core elements—renewables, hydrogen, and green mobility. The company's ambitious business plans include growing commercial and industrial projects in Asia Pacific, growing utility-scale solar and wind to support green hydrogen aspirations, embarking on offshore wind projects within Asia Pacific and the European Union, and developing round-the-clock energy storage capability.
The need for an accelerated energy transition is clear. Asia and the Pacific is at the forefront of the battle against climate change, accounting for ~70% of the global population at risk from rising sea levels. At the same time, the region contributed nearly half of global greenhouse gas emissions in 2019. 
Speaking to BFM, Shah Yang Razalli noted "Asia plays a very significant role in the battle against climate change, due to its large population. Almost two-thirds of the global population currently is in Asia. Asia has robust economic development, and Asia has a very strong long-term growth potential, currently contributing to around 60% of the global economic growth."
The benefits are equally significant. Achieving net-zero could save 350,000 lives a year in Asia and the Pacific by 2030 thanks to reduced air pollution, and create 1.5 million additional jobs in the energy sector by 2050. 
Industry players and policymakers are already making strides to drive change. Malaysia's Low Carbon Mobility Blueprint 2021-2023 aims to ensure electric vehicles (EVs) and hybrid vehicles account for 15% of total industry volume by 2030. Gentari itself is working as co-development partner for electric vehicle (EV) charging infrastructure at Sunway's integrated townships and developments throughout Malaysia, and also partnering with Lotus Cars Malaysia to develop EV charging infrastructure at LCM's facilities, as well as public areas, including EV charging packages for Lotus EV owners.
Shah Yang Razalli noted "For Gentari, we aim to be among the world's leading clean energy solutions companies by 2030… fulfilling multiple aspects of each customer's needs and collaborating with them to remove hurdles in order to make their journey in their net-zero ambition a lot easier. With a growing demand for an accelerated transition towards clean sources of energy, we currently see significant opportunities in three core areas. They are renewables, hydrogen, and green mobility," said Shah, later highlighting that "Our last pillar and certainly not the least, it is actually our fastest growing pillar, is the green mobility."
Transportation and mobility is ripe for energy transition—the sector accounts for ~15% of total greenhouse gasses and 22% of carbon dioxide emissions globally. Reducing this footprint is essential to achieving net zero carbon emissions by 2050. 
Addressing challenges to accelerate net zero
Public and private sector will need to work together to deliver on this change, as mobility becomes a top agenda for nations around the world looking to design the future of transport. Players are already looking beyond electric cars, with cities such as Paris adopting innovative use of micro mobility and green strategies for low-carbon transport solutions. This kind of forward-thinking strategy is key as stakeholders look to create low-carbon ecosystems that achieve national and regional net-zero goals.
Shah noted "bold net-zero goals such as national net-zero ambitions can help drive innovation and technological advancements in the clean energy sector, by providing the necessary impetus or burning platform for things to move much faster. By setting ambitious targets, governments and businesses can incentivise and invest in the development of new and improved clean energy technologies. Which can help make sustainable energy more affordable, accessible, and reliable."
Businesses will also need to explore how they can go green, with business leaders increasingly focused on sustainability. Having all stakeholders engaged will be critical to a net-zero future.
Asia will be vital to this according to Shah. "In a developing region like Asia where population growth is thriving, alongside emerging economies, decarbonisation requires stakeholders to strike the right balance between energy security, affordability, and sustainability. And we call it the energy trilemma. Addressing this trilemma can create the right ecosystem that suits respective national interests, sustaining economic development, and helping to alleviate poverty while spurring new growth areas in the green energy sector."
Green strategies also enable businesses to tap into expanding market opportunities. The addressable market size for green businesses in Asia is expected to reach between US$4 trillion and US$5 trillion by 2030.
"Asia has a substantial and growing market for energy, presenting many opportunities for investments in green tech. Furthermore, Asia has a high potential for RE, with abundant solar, wind, and hydro resources. And governments in Asia are increasingly implementing supportive policies to incentivise development and adoption of clean energy technologies to harness these resources," said Shah.
Governments are already introducing important measures to guide this journey. The Malaysian government launched the National Energy Policy 2022—2040, aiming to achieve a 50% public transport share by 2040, with at least 38% electric vehicle (EV) usage targeted by the same year. 
Energy Asia offers a platform to support this change. "For a small yet rapidly growing company like Gentari, Energy Asia offers a huge platform to develop and share ideas for our future generations and innovating solutions to hasten Asia's energy transition," said Shah.
You can find the full recording and explore greater insight at BFM